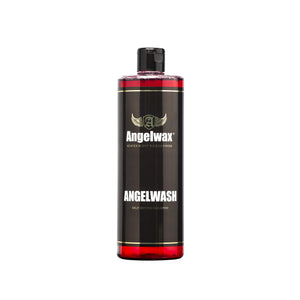 Self Drying Shampoo
Angelwax ANGELWASH has been formulated to break the bond between dirt and your vehicles paint surface quickly, safely and to be completely self drying after the vehicle has been rinsed.
The lush foam gently cleans even the most delicate clear coat surface without scratching and leaves a highly reflective surface once the vehicle has been rinsed.
ANGELWASH encapsulates and lubricates the dirt on the bodywork to ensure that these particles are removed in the safest way possible.

The self drying aspect of Angelwax ANGELWASH ensures that the water will evaporate evenly from the bodywork which, in turn, prevents spotting and other water marks that may occur when a vehicle is left to dry.
As with all of the Angelwax range, our pH-neutral formulation is completely wax safe, guaranteeing any wax protection your have previously applied to your vehicle will not be affected.
App two capfuls of Angelwax ANGELWASH to a bucket of clean, tepid water and agitate to create a creamy lather.
Wash the vehicle.
After washing the vehicle, rinse very thoroughly and allow the vehicle to self dry.
For best results, pre wash the vehicle with Angelwax cleanliness before shampooing. After allowing the vehicle to 'self dry' finish with Angelwax QED.