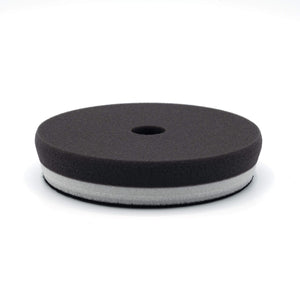 The Black HDO Finishing Pad is great for final polishing on all black, dark or soft paints. The silky foam with a dense body creates the ultimate finishing pad.
Lake Country's HDO line of foam and fiber pads are designed for use on Long-Throw polishers such as the Flex XFE and Griot's Garage BOSS polishers. Since these type of polishers create more heat than traditional DA polishers, a line of pads that are designed to better disperse heat was needed. In steps Lake Country's HDO line of pads. The HDO series of pads run 10% cooler on Long-Throw polishers than comparable pads. 
To run 10% cooler, Lake Country engineered many unique features into these pads. They all have a center cooling chamber to prevent the center of the pad from concaving. They are perfectly balanced for optimum machine control. They have increased stability from their multi-density design. The multi-density layered foam construction provides a smooth bold feel while maintaining the integrity of the foam for optimum surface contact. This allows improved control on curved panels. This design also lessens foam movement which minimizes haze and micro marring. 
The pads have a reduced diameter and slim profile that provides an evenly distributed point of contact for ultimate balance and control. HDO pads have an engineered bevel and integrated interface. This combination keeps the adhesion line away from the working surface for safe use in tight areas. You will find these pads are quick to clean and dry.
Great for finishing on all black, dark or soft paints.
HDO Pads run 10% cooler than comparable pads.
Perfectly balanced for optimum machine control.
Pad Face: 5.5"
Hook & Loop Backing: 5"