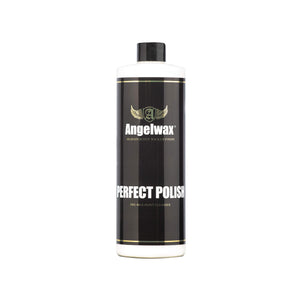 Pre-Wax Cleanser
Angelwax PERFECT POLISH PRE-WAX PAINT CLEANSER has been designed to beautifully prepare your vehicle paintwork for your chosen sealant or protective wax. Applied by hand, Angelwax PERFECT POLISH safely and effectively removes light swirls, scratches and oxidation from the surface of the paint. Micro-abrasives in the polish physically cleanse the paintwork to ensure a glossy, smooth surface. As with all of the Angelwax creations, PERFECT POLISH PRE-WAX PAINT CLEANSER has been rigorously tested in our laboratory and by the best detailers in the business to ensure that we have formulated yet another perfect product for your vehicle.
Always apply Angelwax PERFECT POLISH in shaded positions ensuring that the surface temperature of the paintwork is cool to the touch.
Apply to one panel at a time with a microfibre or foam applicator pad using light to medium pressure. Increased pressure will remove light scratches and oxidation more easily.
CAUTION: Do Not Use Angelwax PERFECT POLISH On Hot Paint Surfaces!
TOP TIP: For best results, clay the paint surface before applying Angelwax PERFECT POLISH. After polishing, use Angelwax STRIPPED-EASE panel wipe before applying your chosen wax.