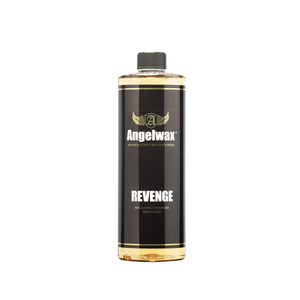 Bug and Insect Remover
Angelwax REVENGE BUG & INSECT REMOVER has been designed to safely and effectively remove stubborn insects and their residue from all exterior surfaces including paint, chrome and glass. Angelwax REVENGE is a completely wax safe, water based formulation that is environmentally safe, biodegradable and free of harmful solvents.

With its fresh citrus smell, this 'spray on' & 'rinse off' formulation gets to work quickly removing flies and other insects from the paint surface. If insects are left to decay on the body of the vehicle they can cause staining to the paintwork if left untreated.
Spray liberally onto the affected area and allow Angelwax REVENGE to get to work on the vehicle surface.
Leave Angelwax Revenge to cure for 3-4 minutes.
Rinse the treated surface with a pressure washer or a hose pipe.
CAUTION: Do not allow Angelwax Revenge to dry out on its surface!
TOP TIP: For heavily affected areas, agitate the treated surface with a microfibre wash mitt or similar soft cloth before rinsing.