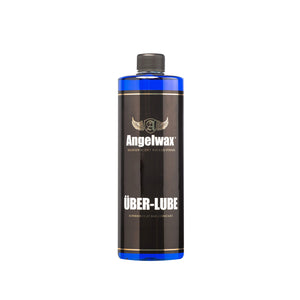 Superior Clay Bar Lubricant
Angelwax ÜBER-LUBE SUPERIOR CLAY BAR LUBRICANT has been formulated to remove contamination and fallout from the paint and glass surfaces of your vehicle. Angelwax ÜBER-LUBE has been designed for use in conjunction with the Angelwax CLEANSE CLAY BAR. The ultra slick formulation of Angelwax Über-Lube makes this clay bar lubricant virtually effortless and extremely safe to use. The bodywork and glass of your vehicle are subject to contamination from a variety of chemical, environmental and industrial pollutions such as bird lime, tar, tree sap, ferrous metals and salt. These harmful contaminants cannot be removed by simply polishing or washing away, they require a clay bar and a clay bar lubricant to remove them from the paint surface.
Once the paintwork has been treated, it is suitably prepared for polishing and wax layers.
Thoroughly washed and dry your vehicle.
Spray the surface to be treated with Angelwax ÜBER-LUBE. Working on one panel at a time, gently run the clay bar over the treated panel removing the contaminants from the bodywork.
Once the panel has been treated, wipe with a clean, dry microfibre cloth.
TOP TIP: Once the vehicle has been treated with Angelwax ÜBER-LUBE, finish with Angelwax PERFECT POLISH before applying a coat of your chosen Angelwax DETAILING WAX.